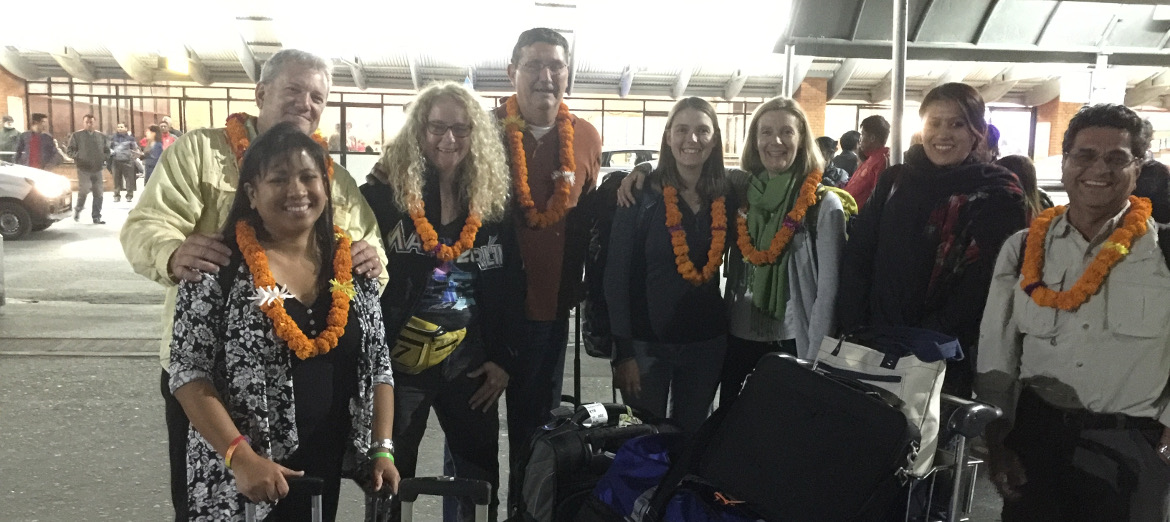 I'm starting this blog a little early. We begin our 2018 Nepal water project October 27, 2018 but so much has already happened I wanted to write it down before the details start to blur.
Oct 25, 2018 - Our shipment of (30) 5 gallon LIFESAVER Jerry cans from ICON Technology arrived in Kathmandu the other day. Our friend Ram made several trips to customs to pick up the shipment. After several tries he finally had the right letter, the right form and the right amount of money to pay the import fee. Shipping to a foreign country is always an interesting negotiation and endurance test. The 30 water filter jugs are on their way to Kabilash where we will hand them out to schools and medical posts from the region.
We picked up our shirts, hats and door stickers. Designing a layout, reviewing proofs ordering silkscreened shirts and embroidered hats is a task. But when you also include a nepali font it really ups the anti. They turned out great. We picked the up today from Greatwestern Printing in Lake Worth, FL. We have a shirt for everyone on the team and extra to share with our nepali team members (Ram) and others who have been building the water systems.
We've collected all our funds for the trip. In developing countries we are expected to pay cash for several things. We've tapped our bank account and our cash box. We've collected the fees and contributions from everyone going and we're taking a little extra of our own to make up for any shortfalls. We need to pay for visas, hotels, meals, drivers, construction of 2 water systems, customs and delivery of the filters. We're bringing 13 donated laptops and thank you gifts we purchased for the people who have been working so hard in Nepal as our trusted partners and agents. It takes a lot of help from trusted partners to do this kind of work and we have been very lucky to have dedicated in Nepal supporting our efforts.

We've packed our bags and we plan to meet at the airport 4:30AM on saturday morning.
Oct 26, 2018After a full day at work we stopped in to see Troy at Accomplice Brewery and Cider Works. We got to see him for a while and say goodbye. We were up until very , very late doing our final packing and we still managed to forget a few things - business cards and coconuts - more on that later.
Oct 27, 2018 Departure date is finally here. We were ready and out of the house by 4:30AM and at the Palm Beach airport by 4:45AM.


UPDATED: 2018-10-28 22:16:01