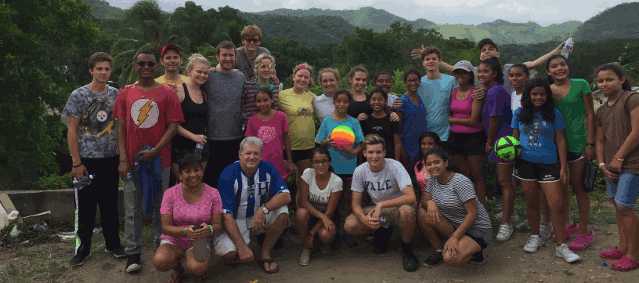 We met at the West Palm Beach Tri-rail station at 6:30 in time to catch the 7AM train to the Miami airport. Our team of 15 did well hauling our bags and keeping together as a group as we joined the morning commuters. We had no trouble in the airport checking in at the American Airlines counter and we made it through security. We treked to gate 47 only to find out our flight had been changed to gate 4. It felt kike a 2 mile hike. It was our first test at being flexible as we treked 43 gates making it with a few minutes to spare lucky that our flight had been delayed by 45 minutes. The flight is only 1hr 45min but we still had a few minutes to close our eyes before we touched down in San Pedro Sula. We deplaned down a stairway instead of the usual gangway to the 2nd floor. We walked across the tarmac and entered on the ground flow a few steps closer to immigration. After a short wait we made it through immigration, retrieved our bags and made it out the door to where Tia Belkys was waiting and Danilo was ready with the bus to take us to Our Little Roses.
We arrived at OLR mid-day. There weren't many girls there to meet us. We hauled our bags up to the 2nd floor apartment, assigned rooms and settled in. We had about 30 minutes until Mayra was ready to give us our orientation. Each year we are first updated on the newest changes at the home, the new rules and the new girls. After a briefing we took our tour and were greeted at the door by the girls waiting to welcome us with hugs.
There are always so many changes to get used to not to mention the changes in the girls from year to year as they grow. WHAT IS MY NAME?! That is how we are often greeted, with a challenge to see if we remember the girls names. Not easy as they go through growth spurts especially at age 12,13,14 plus the real little girls as they grow. We passed most of the challenges with big smiles.
The buildings and surrounding area changes each year. The homes in El Bordo now have more cinder block and metal roofs. There is a new main gate. The landscaping looked nice and green, there was new concrete, new paint on the walls and a new roof was being welded into place over the tables next to the playground.
First time visitors made quick friends, returning people got reacquainted with the girls and everyone had enjoyed welcome socializing until dinner time.
We had dinner and then we spread out, some on the playground, some in the courtyard as we enjoyed the evening together. Some played basketball, others played soccer, listened to music and talked. By 9:30 we returned to our apartment and the girls returned to their rooms for the evening.
Every night we had evening prayer at 9:30 lead by a different person. Greg lead the time as we reflected on the day and discussed plans for tomorrow. By10PM most of our team were ready for showers and a well earned sleep.


UPDATED: 2018-07-16 08:06:00